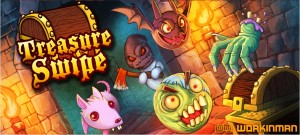 For anybody that likes Grizzledude & crew and currently has an iOs device: Workinman just released our first iOs game called Treasure Swipe! I was lead artist on this project and we're very proud of the game, so I hope will check it out! There's a lot of cool/fun fantasy elements in common with this and my Imaginary Monsters comics, which I think you will enjoy.
The game takes place in an abandoned haunted castle filled with treasure and monsters. The player tries to steal as much treasure as possible while surviving wave after wave of monsters. If you can defeat the boss at wave 10 of level 1 you will unlock new areas of the castle to explore.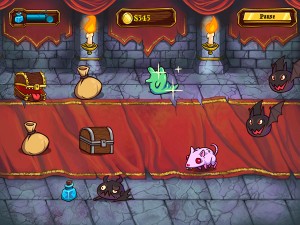 I'm not going to lie to you, we made this a challenging game! But we did just release an update that will help new players get over any early game difficulty. If you're a fan of fast paced action games or classic retro hardcore games you might enjoy Treasure Swipe.
The game features retina display support for any new iPad users out there too.
Check out our website for more info on the game: http://treasureswipe.com/
Or head directly to the app store to purchase a copy: http://itunes.apple.com/us/app/treasure-swipe/id499948972?mt=8
Also follow @TreasureSwipe on twitter!
The game is $.99 and it's a great deal! I hope you enjoy it!