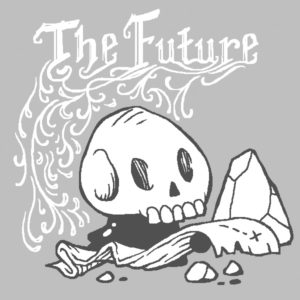 A heads up to any new and returning readers. Starting after comic 150 I'm going to be changing up the format of the comic updates. I'm going to start doing full page comics vs. the gag-strip format that I have been using from the beginning. I've been thinking about Imaginary Monsters a lot during my long hiatus and things were getting a little cramped in those rectangular frames. It was a great constraint to help me get going, but I want to expand the storytelling possibilities by using a more open format.
Also, story arcs will be more chapter based vs. my old mode of open ended tales and trailing stories. This will make it easier for me to collect smaller editions of comics to bring to shows like MoCCA and other small press events. It also means that I'll be taking a break from the standard Imaginary Monsters Grizzledude crew to try out some different characters and settings. Grizzledude and friends will still be around to star in their own comics, but there will be more variety for readers and for me to work with.
Beginning after comic 150 I'm going to publish a short comic I made in 2011 called Catacombs. Many of you have not seen it (I've only had it available at MoCCA, Comics and Graphics Fest, and a few other events for now). It's a bit different from the usual comics fare here, but I hope you'll enjoy what they have in common: cool, weird fantasy tales!
All in all, thanks for reading and I hope you enjoy it! I'm glad to be back.