Awesome News!
The morning after Thanksgiving I was checking my email and I saw this message in my inbox: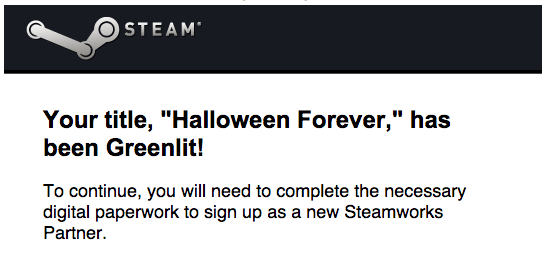 Halloween Forever had been Greenlit and approved to join the Steam catalog! This immediately snapped me out of my post-feasting stupor. I think I might have danced around a little bit too. Awesome news. Since then I've been collecting some necessary reading on getting a Gamemaker build ready for Steam integration. Specifically these three so far if you're interested:
So What Comes Next?
Firstly I'm going to make sure I can get the current version of Halloween Forever up and launching via Steam. I have a short to medium list of new features and some content I would like to add to make the game more packed with cool stuff and polish for Steam. My tentative list, no promises:
Some menu polish and refinement. Sound and music toggles
An additional world or two plus bosses.
Some new secrets, but trying to not largely change existing world designs. I'm not sure if I will spread the 6 secret runes out through all the worlds or keep them all in place for worlds 1-3.
Additional music, ideally a custom level theme per world. Currently talking to Robert Mostyn about this!
Some control remapping would be awesome (at least for keyboard, also possibly for gamepad). Better gamepad support than is currently in too (works with xbox 360 format usb controllers but maybe not other things).
Switching to 16:9 instead of 4:3, or even view size toggles.
On top of that list I'm considering making the current version of Halloween Forever available via Early Access while things get tweaked and additions get made. Ideally it would be a short Early Access run, maybe 3-4 months, and I'm interested in trying it out on a small scale with a game like this. Must learn somehow!
I'll be continuing to post updates and info on how things are progressing here as it goes. Looking forward to it!